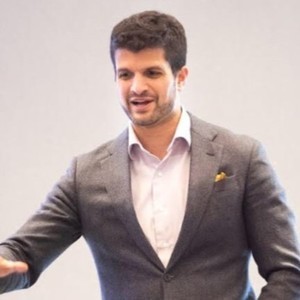 Hassan Khan
Special guest
Hassan Khan is a co-Founder and the CEO of TODAQ, a technology company that is restoring ownership of identity and valuable digital assets by providing a new peer-to-peer Web of Value for all.
A serial entrepreneur, Hassan's background started as an Army Signals Officer with the Canadian Army. During his time there he created integrated cryptographic capabilities for security and emergency response agencies to cooperate for security operations in the former Yugoslavia and the G8 Summit, as well as disaster response in support of the Canadian people during the British Columbia forest fires. He also led teams to develop new capability platforms including software applications to handle virtual training. Hassan started his service leading platoons for the Princess Patricia's Canadian Light Infantry 1st Battalion and serving as its Regimental Signal Officer. Merit ranked 1st nationally across all Signal Officers he was then promoted to Major and commanded the Signal Squadron in Canadian Forces Base Borden, was the CIO for all technology services enabling training of 15,000 annual graduates of the Canadian Forces Support Training System. He was then appointed as the J6 staff officer for all technology policy and planning for the Army, Navy and Air Force for central Canada prior to honourable retirement in 2008.
In 2009 he joined the global consulting firm McKinsey & Company, where he served the leadership of F500 companies and countries, helping them achieve growth in their technology related sectors and supporting corporate leaders to adopt new technologies across high tech, telecom, finance, healthcare, defense, biotech, and natural resources sectors in over 15 countries and 50 cities.
Hassan left consulting in 2014 to build companies that would meaningfully address large capital gaps for knowledge-based businesses and the unbanked. In 2015, he founded his first company, Quantius, which is an alternative lender to businesses that are rich in intellectual property (IP) and need non-dilutive growth capital. Quantius' differentiation is its ability to use big data analytics to analyze and collateralize the IP of its borrowers. In 2019, Quantius placed third in the Canadian Hedge Fund Awards Private Debt category. The Quantius team is now managing the Business Development Bank of Canada's National Intellectual Property Innovation Fund.
Hassan is a computer engineering graduate from the Royal Military College of Canada and completed his prior schooling at Upper Canada College in Toronto. He currently resides wherever there is opportunity to change the game to create greater liberty coupled with accountability; stronger ownership, privacy and security rights; and opportunity for sustainable prosperity creation.
Hassan Khan has been a guest on 1 episode.
March 15th, 2021 | 46 mins 50 secs

adot, bento miso, clojure toronto, cs cabal, enterprise adot server, gamma space, haskell toronto, openshift, proof of provenance, quantius, toda, toda-as-a-service, todaq, toronto javascript, webrtc

This week Dave talks with Hassan Khan and Dann Toliver about containerizing assets with containers!